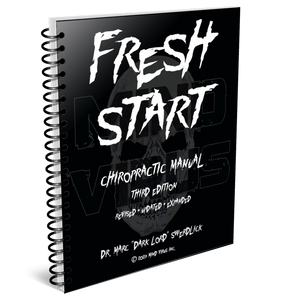 FRESH START III is the ULTIMATE arsenal of tools to start your practice at full speed, and without expensive errors and mistakes!
New Doctor? Great! You could start up on your own, but doing it right from the get-go and the community's first impression of your practice...is EVERYTHING! You spent over $200,000 on your chiropractic education, so it only makes sense to invest in business strategies that will make you successful. 
There are a lot of folks out there...dishing out a lot of advice:
"Find your passion!"
"Believe to succeed!"
"If you can dream it...."
That's terrific, but you still NEED an arsenal of tools and a strategy.
Established Doctor? Fantastic! This manual contains the strategies you may have missed when you opened your doors. Guess what? You always have time to give your practice a refresh. 
Opening A Second Location? Congrats! This NEW manual will be your best friend and guide you in avoiding potential potholes.
WHY FRESH START III?
The revised, updated, and expanded FRESH START III Chiropractic Manual was created by Dr. Marc Swerdlick - a Tactical Strategist with 35 years of knowledge, education, experience, and expertise in consumer psychology, strategic marketing, and behavioral economics (and yes, Dr. Marc graduated from the world-famous Palmer College of Chiropractic).

You COULD hire a coach, guru, or mentor; you COULD attend a chiropractic multi-speaker event. No matter what you do, without this manual, you will be no better than a 100 watt lightbulb operating with only enough energy to give you 50 watts of light!
ORDER NOW! 
FRESH START III will begin shipping on November 13, 2023, but you will want to be up at the top of the shipping list. Order NOW and get ready for your (get ready for it) FRESH START!
Purchase of this manual constitutes the buyer's understanding that this item will not be scanned, photocopied, sold or distributed in any way, shape, or form.
Like all of our other products and services,
your return will far exceed your investment.


PRE-ORDERS Will Begin Shipping On Monday, November 13, 2023
Any Manual Ordered AFTER November 13, 2023 Will Be
Shipped 4 - 6 Weeks From The Date Of Order


No Refunds...For Any Reason.