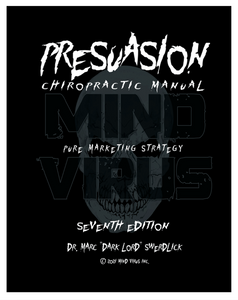 The word Presuasion was coined in 2006 by Master Behavioral Economist, Dr. Marc Swerdlick. The word Presuasion was derived from the words pre-sale and persuasion. Put those two words together, and what you have is a term that defines the concept and strategy of getting people to want what you have (because it's what they need) – before their first encounter with your offering. Shortly thereafter, Dr. Swerdlick released the first edition of the Presuasion Chiropractic Manual. 
The SEVENTH EDITION of the Presuasion Chiropractic Manual includes a start to finish easily implementable strategic approach that utilizes unique, highly effective, time-tested Presuasive and Pre-Sale methods and strategies. 
The Presuasion Chiropractic strategy is NOT a "system," or a quick fix for an urgent situation. Rather - it is a manual of strategies for LONG-TERM expansive growth. If you are looking for new patients "right now," this manual isn't for you. Additionally, this manual won't solve the problems that are an outgrowth of a bad decision-making or an unacceptable practice location. And NO, you will NOT attract 100 new patients the day after receiving Presuasion.

The Presuasion VII Chiropractic Manual will take you through the process of migrating a prospective patient with a passing interest in chiropractic from where they are, to an active patient who is compliant, refers (because they WANT to refer), and clearly understands the importance of chiropractic as a part of a preventive lifestyle.

The Presuasion VII Chiropractic Manual includes numerous integrity-based marketing strategies that transform a chiropractic clinic into a well-oiled highly profitable business. There are no gimmicks, games, or scams. You will need funds to invest in a number of the strategies presented in this manual in the same way that you can't just buy the equipment to start a lemonade stand; you still need to purchase lemons, sugar, water, cups, etc.
From the beginning to end, the Presuasion VII Chiropractic Manual is nearly 600 pages of information that will help even the most successful of practices become that much more successful.
Purchase of this manual constitutes the buyer's understanding that this item will not be scanned, photocopied, sold or distributed in any way, shape, or form.
Your Manual Will Be Shipped 

4 - 6 Weeks From The Date Of Order 


No Refunds For Any Reason